SOFT DRINKS: Energy's still got oomph
---
We catch up with what's going on in the fast-growing energy drinks market
For Forecourt Trader of the Year Best Soft Drinks Outlet category winner, Ziheed Mohammed of Woodman Service Station in Leeds, energy drinks are big business.
Ziheed reckons he devotes 20% of his extensive soft drinks space to the sub-category. Red Bull is his biggest seller and he says its sales are in line with those of Coca-Cola 500ml bottles.
"Red Bull is far, far and away our best-selling energy drink by. Customers are very loyal to it despite its premium price. However, we notice that sometimes, perhaps when customers are a bit short of cash, they will switch to a cheaper energy drink, but they always come go to Red Bull."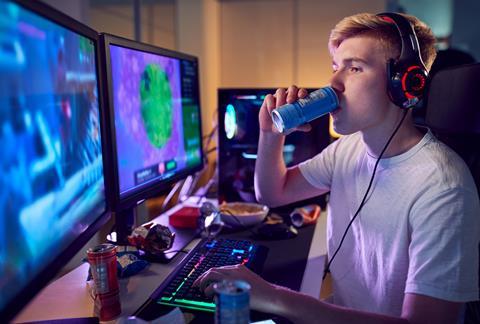 According to Nielsen stats, Red Bull 250ml is worth over £164m to the total sports and energy category, delivering 10% of all sports and energy drink sales in the UK.
Red Bull cans currently feature an on-pack promotion where consumers get to nominate their favourite rising star of UK streaming, and both the streamer and the Red Bull customer get the chance to win an "ultimate streaming prize".
The campaign specifically targets 18-34-year olds who log in to watch their favourite players live streaming. The energy drink has been synonymous with gaming for many years, as it fuels streamers and gamers when they want to level–up and be at their gaming best.
Earlier this year Red Bull launched its Apricot-Strawberry flavour 2022 Summer Edition. It has been a great success with the company saying that it is the best NPD so far for the brand, amassing over £2.2m in the first six months of launching and will now be a permanent flavour.
Monster growth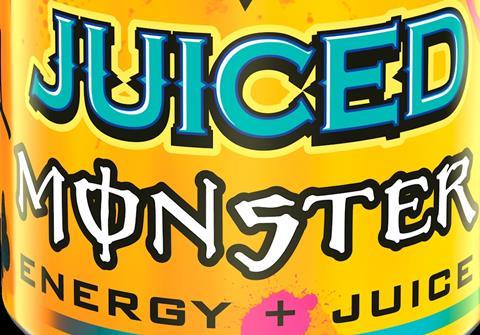 Monster is the number one deliverer of value growth in the whole of the GB soft drinks market, according to Nielsen. Worth £480m it has added more than £77.6m of value in the past year alone.
"To keep the range popular with customers, we've continued to innovate when it comes to flavour," says Amy Burgess, senior trade communications manager at Coca-Cola Europacific Partners (CCEP).
"We've recently launched Monster Khaotic – a shake-up of one of the original Monster Juiced variants – and Ultra Gold, which combines a juicy pineapple taste with the renowned Monster energy blend, giving consumers a refreshing energy boost with no calories and no sugar. More recently Monster Reserve White Pineapple has joined the core range and will be followed by Monster Reserve Watermelon in early 2023. The introduction of new flavours helps to maintain momentum behind the Monster brand."
Burgess adds that in addition to a strong core range, Monster Ultra is now the number one zero sugar energy drinks range in GB and the Monster Juiced range continues to grow, highlighting shopper demand for great tasting products and zero sugar options.
Flavour is key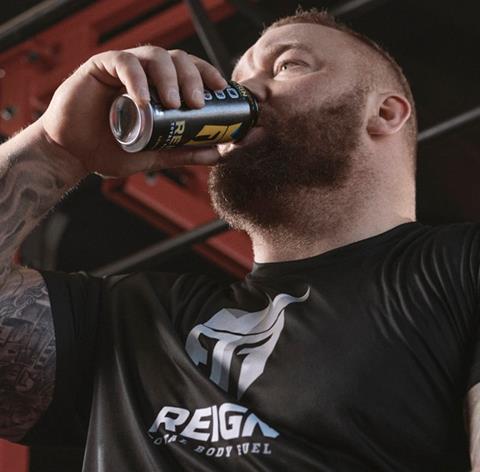 An additional 400,000 shoppers have entered the energy drinks category in the last 12 months, generating an extra £15m-worth of sales (Kantar data).
Adrian Troy, marketing director at AG Barr, says flavoured energy accounts for over half of all volume sold (IRI data): "This means it's important that retailers offer a wide range to cater for all tastes. Shoppers are demanding an exciting and varied category so flavours are crucial to success. Over £131m of category sales were generated from flavoured NPD last year."
New flavours are important to Ziheed at Woodman Service Station and he prides himself on stocking every new flavour available. "We've always got new flavours as this keeps the range exciting. I like to multiface flavours, having at least two facings for each one, so they are right in my customers' faces. For example, we have every Monster flavour that's available and Reign sells really well and we stock all five flavours." According to Nielsen data, the Reign Total Body Fuel range is currently in 16% growth.
Ben Parker, GB retail commercial director at Britvic, says: "Our research shows that core variants and flavours continue to be the most popular among shoppers and lead the way in sports and energy sales, reflecting many consumers' preferences for the taste of these products. Although consumers gravitate towards their favourite flavour, there is also demand for expanded ranges and new flavours – 17% of sports and energy drink consumers actively seek out new flavours (Mintel)."
According to IRI data, 87% of energy NPD in 2021 was flavoured and this is a trend that is expected to continue. "Flavour innovations are becoming more complex as consumers look for new and interesting tastes, so we expect to see more unique products on shelf as the category grows," says Troy.
ADVERTISEMENT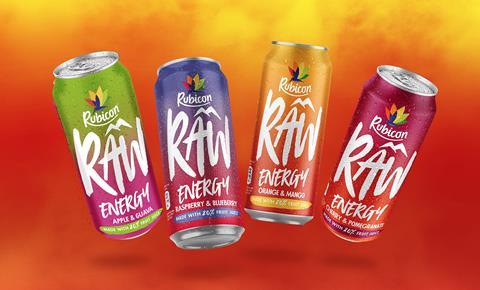 Rubicon RAW accelerates growth
Rubicon RAW has established itself as an important part of the energy drinks category becoming the third largest flavoured big can energy brand (IRI), and selling more than 20 million cans (AG Barr), in less than two years.
60% of sales have been incremental by recruiting new and lapsed energy consumers (IRI), while current shoppers are also buying Rubicon RAW more frequently than other brands in the market.
The levy free, HFSS compliant range includes four 500ml Big Can Energy Drinks – Raspberry & Blueberry, Orange & Mango, Cherry & Pomegranate and Apple & Guava.
Since launching in May 2022, Apple & Guava exceeded expectations in research with 90% of shoppers saying that they would buy it again and 87% rating it as good or excellent (JVA).
Rubicon RAW delivers on taste and exciting, interesting flavours more than its Big Can Energy competitive set (BASIS), allowing retailers to invigorate and excite their category with a product that delivered exceptional results in consumer research.
The more, the merrier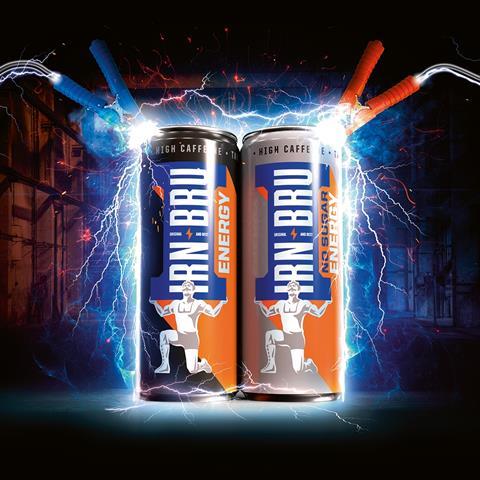 Ziheed describes the soft drinks category as his 'bread and butter' and his range is all about choice with a 'the more, the merrier' approach. You name it and he's probably got it somewhere in his chiller, including AG Barr's Xyber, Rubicon Raw and Irn Bru Energy.
AG Barr says Rubicon RAW has had a "phenomenal" first year, quickly establishing itself as an important part of the category. Launched just 18 months ago, it is already the third largest flavoured big can energy brand in the market (Kantar) and has sold over 20 million cans (IRI).
Says Troy: "Irn-Bru Energy is growing at +20%, six times faster than the total energy market (IRI) and we know it delivers incremental sales as half of Irn-Bru Energy shoppers buy it in addition to their normal energy product. Last year we added a 500ml format offering retailers another pack format to allow them to build on these incremental sales. Irn-Bru Energy 500ml is available in full sugar and no sugar and we'd advise retailers to stock both variants as each attracts a different type of shopper."
Is your price right?

Price and value are the second biggest driver for consumers behind taste and flavour when selecting an energy drink according to Tribes data. And research by Lumina Intelligence reveals that 56% of all impulse shoppers would be more likely to buy a price-marked pack (PMP), with this view significantly over indexing within the 33–44-year-old age demographic.
Red Bull recommends stocking PMPs across best sellers at all times, to demonstrate range and offer choice, while also driving profit as Lumina data reveals that one in five consumers will purchase a soft drink on impulse, if it is on promotion.
Britvic recently put two of Rockstar's top performing flavours, Juiced El-Mango and Tropical Punch, in a £1.29 PMP format.
Parker at Britvic, says PMPs remain key for the convenience market, giving shoppers price reassurance and a greater perception of value for money.
New arrivals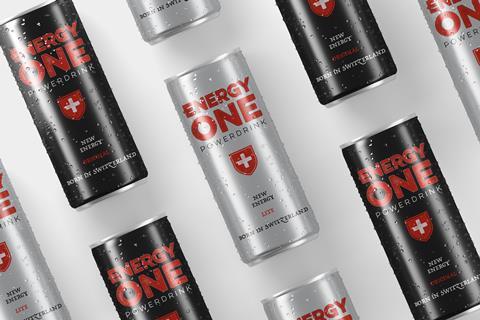 A new energy drink is hitting forecourts later this month. Having made significant strides on the global stage (nine international markets and counting – including Canada, Germany and the Far East) Energy One will be stocked by a leading forecourt chain from November 22.
Energy One positions itself as a "more flavourful yet functional" alternative to its establishment rivals, packed with four essential B-vitamins (B3, B5, B6 and B12) but with none of the harsh metallic aftertaste that some other drinks can leave.
Energy One founder, Marion Barnaby, said: "Love them or loathe them, energy drinks are now part of the UK's soft drinks road map. Energy One doesn't attempt to swagger and posture to either the teenage fraternity or the under 30ss with showy can designs, gothic fonts or sensationalist product names, opting instead for an older, more discerning audience who simply appreciate great taste and bona-fide functional benefits."
Made in Switzerland, it comes in cans in Original and Lite variants.
Another new arrival to look out for is ROKiT Fuel. Its marketing says it has been designed to appeal to those who have "outgrown standard energy drinks". It is a Vegan Society certified and vegetarian approved, all-natural, lychee & passion fruit flavoured sparkling energy-giving drink, containing natural caffeine.